VIREB Helps Raise $10,000 for Nanaimo's Haven Society with "Driven to Give" Event
Excitement ran high on November 6, 2015, as people gathered to watch the Vancouver Island Real Estate Board (VIREB) and Steve Marshall Ford Lincoln present a cheque for $10,000 to Nanaimo's Haven Society. The money was raised at a "Driven to Give" test-drive event held on September 24 in Nanaimo. Recognizing that charitable organizations and … Continued
Excitement ran high on November 6, 2015, as people gathered to watch the Vancouver Island Real Estate Board (VIREB) and Steve Marshall Ford Lincoln present a cheque for $10,000 to Nanaimo's Haven Society. The money was raised at a "Driven to Give" test-drive event held on September 24 in Nanaimo.
Recognizing that charitable organizations and educational institutions are frequently unable to reach their full potential due to lack of funding, Lincoln Motor Company developed the "Driven to Give" program. Each test drive taken on event day earns $50 for the chosen charity, to a maximum of $10,000. Steve Marshall approached VIREB in the spring with a proposal to collaborate on "Driven to Give."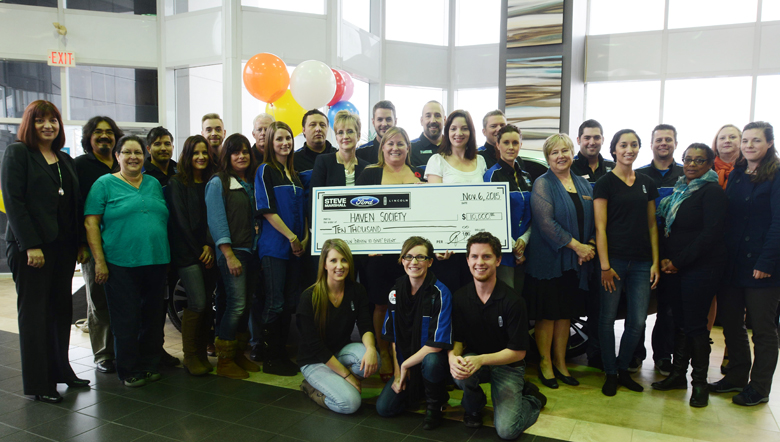 The company has initiated several "Driven to Give" fundraising events since adopting the program, but this was the dealership's most successful to date.
"We believe in getting into the community and making a difference. This event was an amazing opportunity to do just that," says Ann Marie Clark, dealer principal/owner/leader at Steve Marshall. "We're extremely thankful to VIREB and Haven Society for helping make this event our most successful ever."
VIREB has a long, established relationship with Haven Society, having supported the organization for many years with an annual staff-initiated Christmas donation comprising a year's worth of weekly contributions for Jeans Day. "Driven to Give" provided an enhanced opportunity to help raise funds and promote awareness.
"When Steve Marshall invited us to participate, we immediately recognized that it was a perfect partnering opportunity for us," says VIREB Director Janice Stromar. "And, when we sat down to choose the charity, Haven Society was first on the list."
Haven Society is a dedicated Nanaimo-based organization offering sanctuary to women, children, and families fleeing domestic violence and abuse.
"Haven Society supports close to 4,000 women and children every year in mid-Vancouver Island," says Christine Gross, the resource development and communications manager for the organization. "A donation of this size helps us ensure a safe place and all the necessities our clients need to begin healing from abuse."
Despite cloudy and rainy weather on September 24, VIREB's REALTOR®members came out in droves to test drive, surpassing the maximum 200 mandated by Lincoln.
"REALTORS® are one of the most philanthropic groups of individuals anywhere," says VIREB Director Kaye Broens. "Many are heavily involved in charitable causes all across Canada. In fact, the Canadian REALTOR® community gave over $71.6 million to charity between 2012 and 2014."